Key Takeaways
Bitcoin has slipped below $40,000 after enjoying a 43% rally. 
Transaction history suggests that BTC would have a difficult time reclaiming this level as support.
If it does reclaim $40,000, $44,000 will become an imminent price target. 
Share this article
The overall sentiment among cryptocurrency enthusiasts is back to "neutral" after the significant gains Bitcoin has posted in the last 12 days. Despite the renewed optimism, BTC needs to reclaim a crucial price level as support to advance further.  
Bitcoin Must Reclaim $40,000 
Bitcoin has enjoyed an impressive 43% rally over the past two weeks, gaining over nearly 13,000 points in market value. Its price went from a low of $29,800 on Jul. 21 to hitting a high of $42,600 over the weekend. The bullish impulse was forecasted by a descending triangle pattern that developed on BTC's daily chart. 
Although the technical formation projected a 40.5% advance from the breakout point at $32,600 towards the 200-day moving average at around $46,000, the $40,000 resistance zone has proven challenging to break through. 
The leading cryptocurrency has retraced by more than 8.6% over the last few hours, dropping below the 100-day moving average at $39,900. Now, Bitcoin must reclaim this crucial support level to continue its upward advance.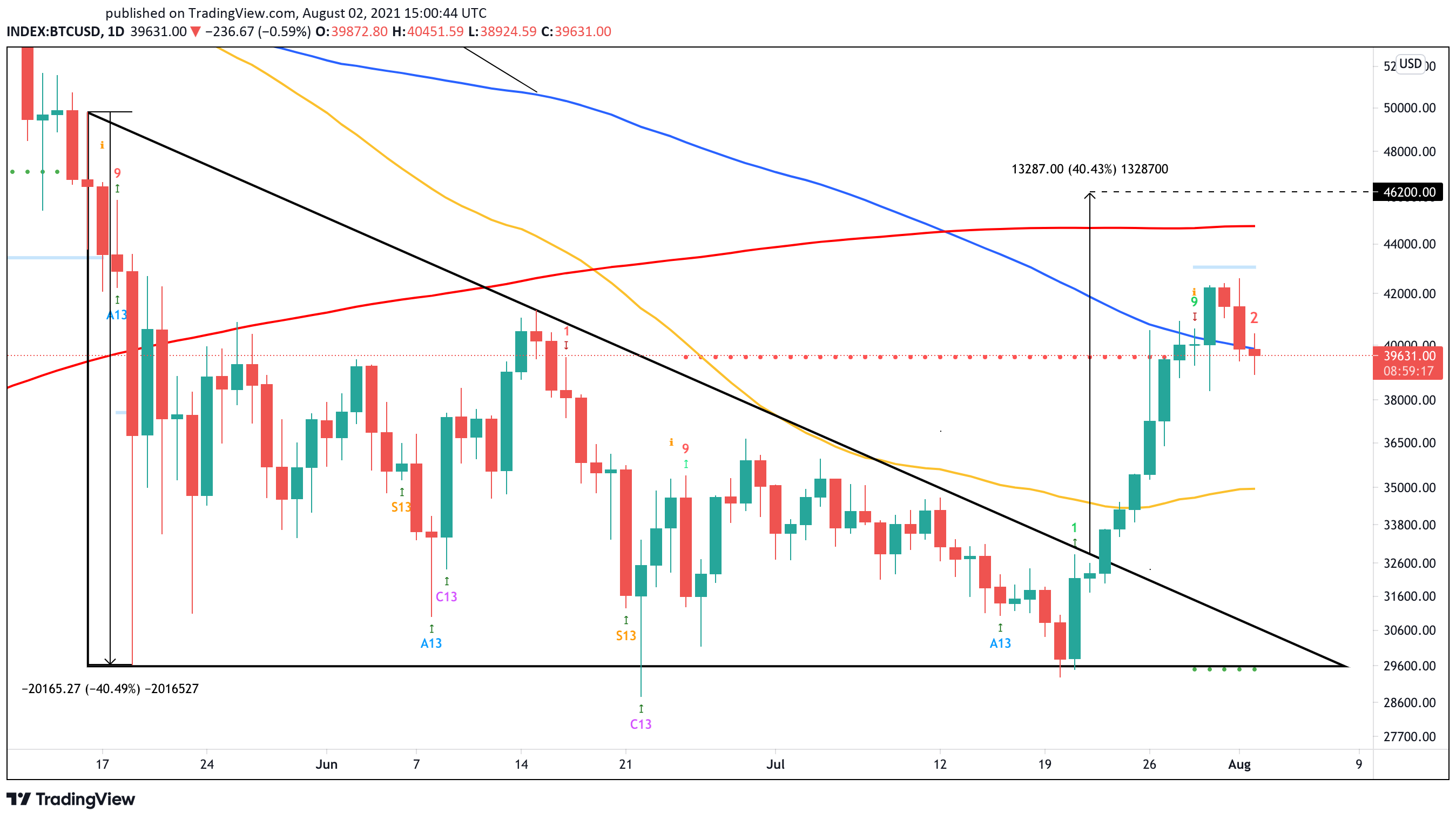 IntoTheBlock's In/Out of the Money Around Price (IOMAP) model reveals that over 750,000 addresses have previously purchased nearly 550,000 BTC at a price of around $40,000. Such a large concentration of addresses "Out of the Money" at this level suggests that any signs of price weakness could encourage them to exit their positions to avoid further losses. 
Under such unique circumstances, a sell-off would likely push Bitcoin towards the next critical area of support that sits at $36,770 based on transaction history. 

Nonetheless, a spike in buying pressure that allows Bitcoin to reclaim $40,000 as support could lead to an upswing towards $44,000. The IOMAP model shows no critical supply walls between these price points, crediting the optimistic outlook. 
Share this article
Bitcoin and Ethereum Flash Sell Signals After Major Gains
Bitcoin and Ethereum continue to make higher highs, but one technical indicator suggests that a correction could be coming.  Bitcoin May Pump Before the Dump Bitcoin and Ethereum may be…
What is Impermanent Loss and How can you avoid it?
DeFi has given traders and investors new opportunities to earn on their crypto holdings. One of these ways is by providing liquidity to the Automated Market Makers (AMMs). Instead of holding assets,…
Bitcoin Hovering Below $40,000 Ahead of Fed Meeting
Bitcoin has taken an attempt to break $40,000 for the second time this week, with the Fed's FOMC policy meeting acting as a source of uncertainty.  Bitcoin's Positive Consolidation around…
Bitcoin Remains Bullish After Shaking on Amazon Rumors
Volatility has struck Bitcoin after a prolonged stagnation period. Although the recent price action was based on a rumor, on-chain data shows that Bitcoin has the buying pressure behind it…