Key Takeaways
Bitcoin and Ethereum are consolidating before their next significant price move.
Clear support and resistance levels have been identified to anticipate a breakout.
Due to the ambiguity in the market, patience is crucial for investors.
Share this article
The top two cryptocurrencies by market cap, Bitcoin and Ethereum, remain stagnant with no clear indication of where they are heading next. 
Bitcoin, Ethereum Stuck Within Tight Range
Bitcoin continues to consolidate while its price action is getting narrower over time.
The flagship cryptocurrency has formed a series of lower lows and lower highs since last week's flash crash. Drawing a trendline through these pivotal points results in a falling wedge pattern. This technical formation's y-axis forecasts a 6% target in either direction.  
A decisive hourly candlestick close above $44,900 could result in an upswing toward $47,630, while a downswing below $44,000 may ignite a sell-off toward $41,330. 
Ethereum also presents an ambiguous outlook as its price action has been contained within a descending parallel channel over the past week.
Whenever ETH rises to this technical formation's upper boundary, it gets rejected and retraces to the pattern's lower edge. From this point, it tends to rebound, which is consistent with the characteristics of a parallel channel.
Ethereum recently dropped to the channel's middle trendline and is yet to rebound to the upper trendline or fall to the lower trendline. 
Slicing through the $3,330 resistance would likely lead to a bullish impulse to $3,660 while dropping below the $3,000 support could see ETH drop to $2,730.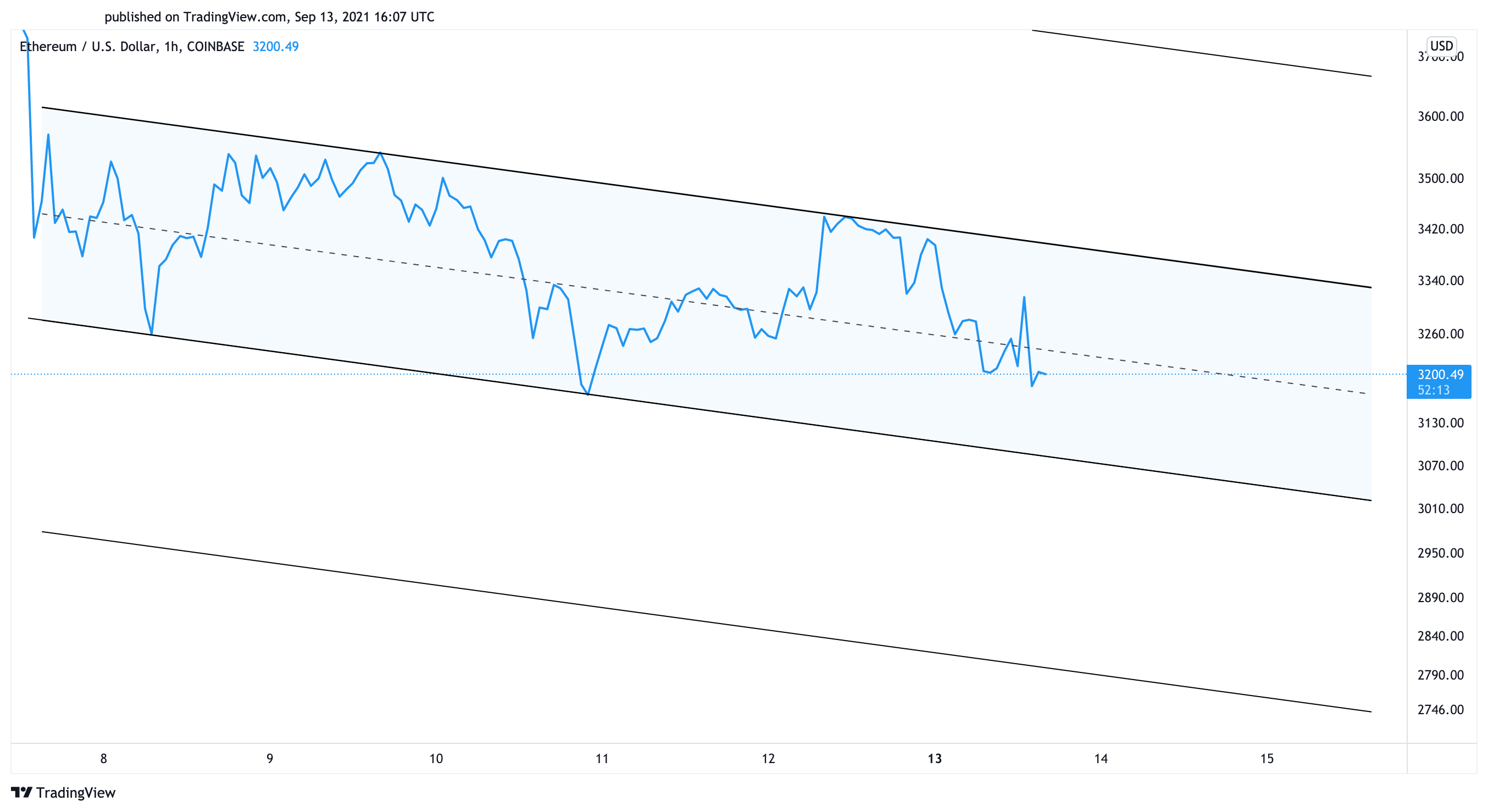 Given the ambiguity that both Bitcoin and Ethereum present, waiting for confirmation before entering a long or short position is imperative. Patience can play a vital role in profiting from BTC and ETH's next significant price movement. 
Share this article
Ethereum Layer 2 Arbitrum Soars to $2B in Value Locked
Arbitrum has seen a sudden upswing in total value locked after launching on Aug. 31. Arbitrum Gains Momentum  Following its launch on Aug. 31, Arbitrum has topped the charts for…
El Salvador Won't Tax Foreign Investors on Bitcoin Profits
El Salvador is reportedly moving to exempt foreign investors from paying taxes on their Bitcoin gains.   No Bitcoin Taxes for Foreigners El Salvador plans to make foreign investors exempt from…
Twitter Reportedly Preparing Bitcoin Tipping Feature
Twitter has reportedly launched a Bitcoin tipping in a limited beta release. Twitter Reportedly Supporting Bitcoin Payments on Lightning  Twitter users may soon be able to tip each other with…
What is Impermanent Loss and How can you avoid it?
DeFi has given traders and investors new opportunities to earn on their crypto holdings. One of these ways is by providing liquidity to the Automated Market Makers (AMMs). Instead of holding assets,…