Key Takeaways
Chainlink has breached the $25 support level.
On-chain data shows that the most significant interest area ahead sits at $20.
While whales continue to book profits, the odds for lower lows increase.
Share this article
Chainlink has lost a significant demand barrier as support, while whales seem to have gone on a selling spree. Given the lack of support underneath LINK, investors must prepare for further losses. 
Chainlink Is Under Pressure
Chainlink whales have been offloading their holdings.
Behavior analytics platform Santiment reveals that the number of addresses with 10,000 to 10,000,000 LINK has significantly declined over the past few days. 
Roughly 30 whales have left the network or redistributed their tokens since Aug. 23.
The recent decrease in the number of large investors behind Chainlink may seem insignificant at first glance. Still, these whales hold between $240,000 and $240 million in LINK. Such a spike in selling pressure can translate into millions of dollars.
Further increase in the sell orders could lead to more losses, especially when considering that Chainlink has no significant support barrier underneath it.
IntoTheBlock's "In/Out of the Money Around Price" (IOMAP) model reveals that the only considerable demand barrier lies between $20.40 and $21.20. Around this price level, roughly 7,200 addresses had previously purchased over 23 million LINK.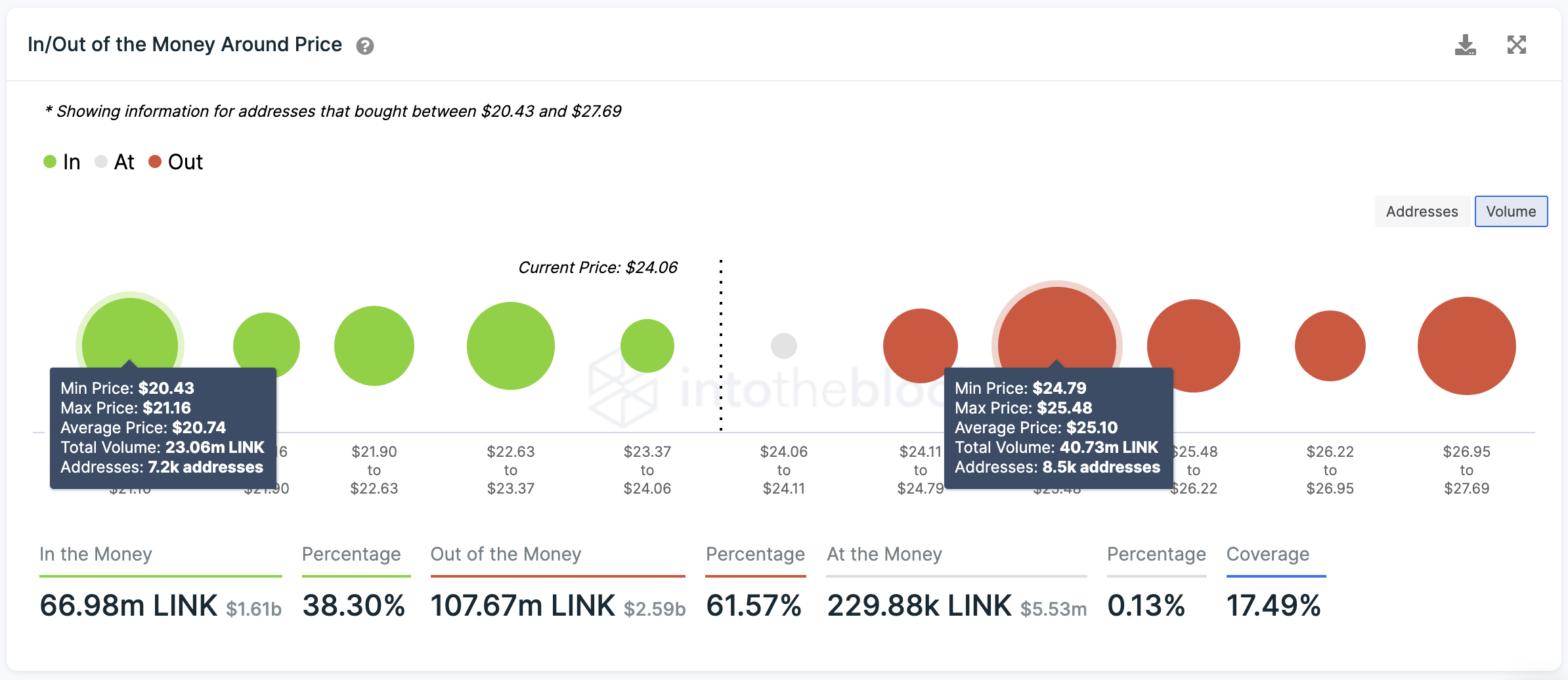 On the other hand, the IOMAP cohorts show that Chainlink could have a difficult time recovering the losses incurred. More than 8,500 addresses are holding nearly 41 million LINK at an average price of $25.10. 
Such a critical supply barrier may have the ability to absorb any upward pressure. Holders who have been underwater could try to break even on their positions, slowing a potential recovery. Therefore, only a decisive daily candlestick close above it could serve as confirmation that the bearish outlook will be invalidated, leading to an upswing toward $27. 
Share this article
Solana Integrates Chainlink to Offer Crypto Price Feeds
Solana announced today that it has integrated Chainlink with its platform, allowing developers to utilize decentralized price feeds. Solana Devnet Adds Chainlink Chainlink is an oracle service that provides price…
Move Over Chainlink, UNI Might Offer a Better Oracle
The co-founder of Ethereum argued for the necessity of a centralized price oracle with a high market capitalization to make any attack prohibitively expensive. In this case, he drew UNI…
What is Impermanent Loss and How can you avoid it?
DeFi has given traders and investors new opportunities to earn on their crypto holdings. One of these ways is by providing liquidity to the Automated Market Makers (AMMs). Instead of holding assets,…
Alpha Finance Turns to Chainlink, Band for Oracle Solutions
DeFi Staple Alpha Finance is bringing together price feeds from multiple sources.  Alpha Finance Merges Price Feeds Alpha Finance is launching the Alpha Oracle Aggregator to pull in price feeds…